🔥WARNING: IF YOU DO NOT GET YOUR PHONE NUMBERS REGISTERED, YOU ARE AT RISK OF LOSING YOUR NUMBER AND FACING BLACK LISTING OF YOUR BUSINESS.🔥
.
.
Effective August 31, 2023
All 10DLC phone numbers used to send SMS and MMS messages to U.S. phone numbers must be fully registered to an approved campaign under a brand.
We're thrilled to share our updates! In this release, we've made several enhancements and resolved a few issues, all with the goal of providing you with a smoother, simpler, and more enjoyable experience.
🚀
A2P Registration v1.1
(Only for LC Phone users)
We introduced a new A2P Registration flow on 



15th June

 that greatly simplifies the process of registering the brand. Now, no need to click in multiple places – 

Just head to the Trust Center and hit the A2P registration

.

Our flow now adapts based on the information provide or has already been shared in the Sub-Account, streamlining the registration experience.
We've optimized the wording and examples and added helpful suggestions near the input fields. This guided flow aims to improve the success rate of brand and campaign approvals.
We've implemented numerous small-scale enhancements to improve user experience and overall functionality.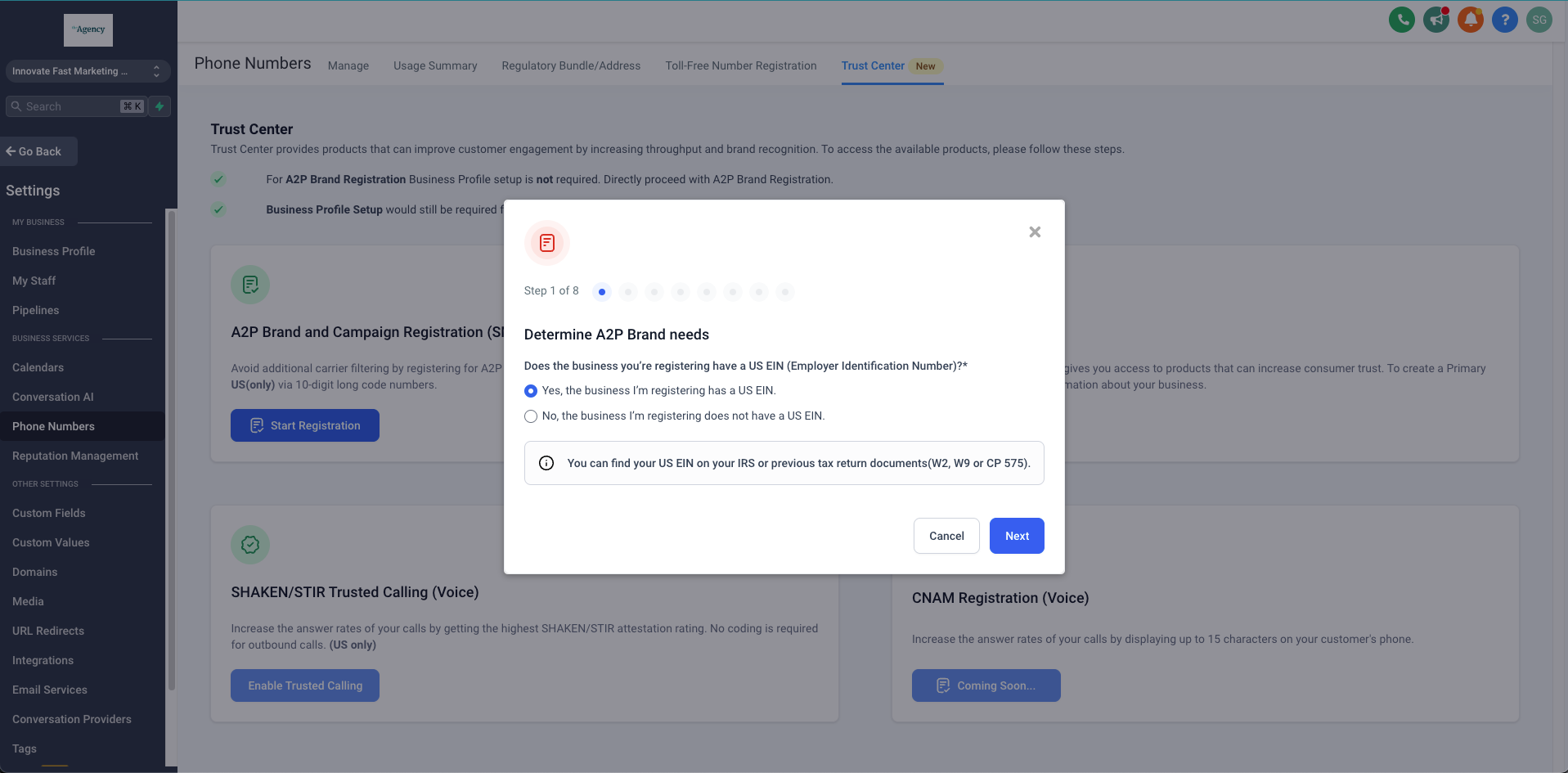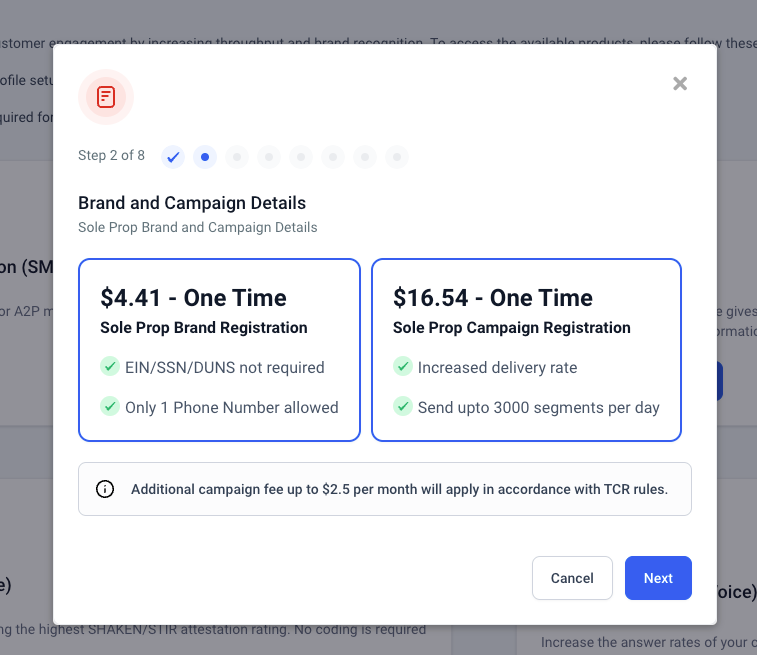 Follow the below instruction to choose the right path for your A2P brand registration:
If the business has a Tax Number (EIN for US, CCN for Canada, etc.), Please select "



Yes, the business I'm registering has a US EIN

"(Standard Low Volume Brand Registration).

If the business does not have a Tax Number but operates from a valid Business Address in US/Canada, Please select "



No, the business I'm registering does not have a US EIN

"(Sole Prop Brand Registration).
If the business does not have a Tax ID and the business address is not in US/Canada, unfortunately, they cannot proceed with A2P Brand Registration. In this case, the best alternative would be to use Toll-Free numbers after completing the registration process
.
Note – To help ensure that your campaigns are approved faster, please follow the

Best Practices

.👈
🛠️
Bug Fixes & Improvements
:
Number LookUp:

 Resolved an issue where landline numbers were still receiving messages after the lookup. We've now enabled Do Not Disturb (DND) and halted SMS to these numbers.

Default Card:

 Fixed a migration failure issue when moving agencies to LC Phone. Previously, it required a default card even when an available card was present. Now, it will automatically select the first available card.

Corrected an error message displayed when users try to send an SMS and no phone number was present at the sub-account level after transitioning to LC. The error message is now more relevant and informative.

LC Phone Free Credit:

 Rectified the failure to remove the credits section after connecting the Phone System in LC.

Contact Creation:

 Addressed contact creation failures caused by the new Inbound DND feature.

Error Code Handling:

 Improved error descriptions for error codes. Specifically, error codes 21612 and 21606 are now properly handled.
We are continuously striving to enhance our communication systems.🚀